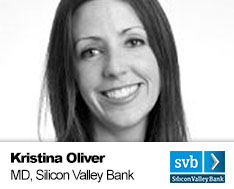 Kristina Oliver /
Silicon Valley Bank
Kristina is currently the Managing Director of Commercial Banking at Silicon Valley Bank.  She leads a team that focuses on designing working capital solutions for businesses of all stages in the technology, life science and private equity sectors. This ranges from stand alone invoice-by-invoice facilities, combination solutions of term debt and revolving lines of credit, recurring revenue lines to leverage lines.
Kristina also work closely with fintech companies throughout Europe, providing customised debt solutions to meet the needs of these growing businesses.
Silicon Valley Bank provides financial services, primarily debt financing, to high-growth technology companies, venture capital and private equity firms globally. I am currently based in London and focused primarily on the UK and Ireland.