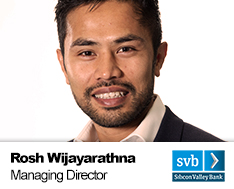 Rosh Wijayarathna /
Silicon Valley Bank
With over 15 years of banking experience (11 years in technology), Rosh leads the later stage business for Silicon Valley Bank in the UK, focusing on providing support and financing for technology and innovation businesses predominantly in the public markets.
Rosh started his career on the leadership programme at Barclays. In his first role, Rosh commercialised and launched new products to the UK market for Barclaycard and then moved to launch their consumer finance business in Portugal (now the country's largest credit card issuer). In 2007, Rosh moved to Barclays Corporate & Investment Bank to join the Technology and Media team to run a portfolio of technology business where he was responsible for a number of high profile debt raises, public to private financings, LBOs and acquisition finances.
He joined SVB in February of 2014 to help build a team devoted to later stage business and has since build a leading presence in the UK market and supported a number of key clients with a variety of different debt and global cash management solutions including Mimecast, The Hut Group, LMAX, Learning Technology Group PLC, IMImobile PLC, CentralNic PLC.
As well as a BSc in Finance from Southampton University, Rosh is a Chartered Marketer. He is a recent father and loves anything to do with bicycles, skis or mountains. He is a qualified martial arts instructor and a self-confessed tech geek.