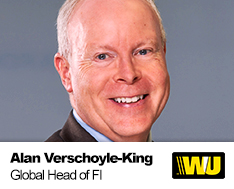 Alan Verschoyle-King /
Western Union
Alan Verschoyle-King is the Global Head of FI and Partner Channels at Western Union.
Alan is responsible for the Global Payment FI strategy and global FI P&L, co-owning the regional FI revenue target with the Regional Heads. In line with the strategic shift to greater specialism, Alan is  working with us to build out the FI teams and drive our payments partner channel strategy.
Alan joined us from BNY Mellon where he was the Global Head of Sales and Relationship Management. Alan was responsible for the firm's Payments, Cash Management, Liquidity Management, Risk Management, FX and Credit relationships with 2,000 corporate and institutional clients worldwide as well as having leadership responsibility for almost 200 FTE across 30 locations, with annual revenues of £1bn and annual sales of almost £100m.
 Alan has a wealth of Payments, Sales and Leadership experience from his time across Tier One Financial Institutions including ABN Amro, Bank of America, Barclays Bank and Citi and is well known in the industry