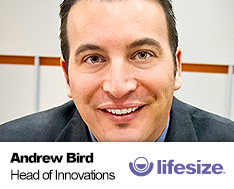 Andrew Bird is passionate about developing and implementing innovative software that drives market expansion and brings transformative technology to life. He possesses nearly 22 years of experience encompassing Product Management, Software Development, Product Marketing, Saas, and is currently Head of Product Management and Innovation for CCaaS at Lifesize.
Andrew understands the value and importance of quality code as well having a strong business acumen. He holds a Bachelor's Degree in Economics from The University of Utah. He has proven success and expertise in a fast-paced, Agile environment facilitating and defining successful product strategies from conception to launch and commercialization.
His strengths include identifying and analyzing market needs and trends, constructing innovative vision and strategy components, and optimizing efficiency and profitability. Andrew is Agile-Scrum Certified and enjoys speaking on all aspects of Product Management at industry conferences. When he's not enthusiastically working or talking about Product, he enjoys spending time at soccer games, cycling and making great memories with his wife, their amazing kids and two dogs.