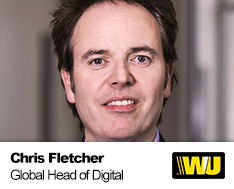 Chris Fletcher /
Western Union
Chris is senior executive with a track record for delivering digital transformation. Recently appointed as Global Head of Digital at Western Union Business Solutions, he drives the digital first proposition; creating a digital community for international commerce and eliminating the friction from cross-border B2B payments.
 Previously, he was Chief Commercial Officer with Kashing Limited which provides a full suite of payments services and technology to small businesses. During this time, he was also a Board member and advisor for several start-ups. 
 As SVP for Product at Worldpay, he led the global ecommerce product team and was responsible for all products including acquiring, transformation, gateway services, alternative payment methods, risk, FX, treasury and developer content. 
 With American Express (Amex), he launched new products in the areas of mobile payments (Apple Pay), contactless ticketing (Transport for London), security, digital services, wallets and e-commerce.
 He held several senior executive roles at Amex including Chairman of the Board for a subsidiary company and founder for a card services consultancy where he rapidly grew revenues during his tenure. Previous positions include Divisional Chief Operating Officer and Chief Information Officer in charge of opening the payments infrastructure to financial institutions.
 Chris is an accomplished organisational leader having received the President's Award from American Express and is an alumnus of the Executive Leadership Program at Duke Corporate Education.