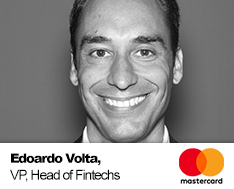 Edoardo Volta, MasterCard /
Edoardo has been with Mastercard for 3 years where he held different Business Development roles both in the SME and the Consumer space. Currently he heads up Fintech Account Management and Business Development for Mastercard in the UK and Ireland. In this role he works with all non-traditional Card Issuer, including all Digital Banks, in the UK and Ireland to help them develop innovative payment solutions.
Edoardo is a tenured Payment professional with over 15 years' experience in the industry, across the UK, Europe and globally. Before joining Mastercard, Edoardo has worked for American Express since 2004, where he held a variety of roles within their Corporate Payment Services division across account management, business development and product management. In these roles, Edoardo developed an in-depth understanding of the Card industry working across different geographies and a variety of different roles.
Edoardo holds a double degree in Business Studies from the University of Brighton (UK) and the Politecnico of Turin (Italy) and he speaks fluently Italian, English and French.