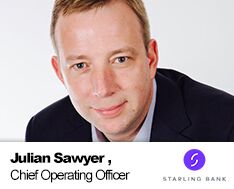 Julian Sawyer /
Starling Bank
As Chief Operating Officer, Julian oversees business operations, including payment systems, card operations, customer service, human resources and supplier relationships. Julian worked as a management consultant at Andersen Consulting (now Accenture) and EY, specialising in large-scale transformation in the cards and payments industry.
He set up his own financial services consultancy, Bluerock, which he ran for thirteen years before selling it in 2012. After many years as a consultant, joining Starling gave Julian the opportunity to put all his learnings into practice, to build a bank with an amazing team of true professionals. He enjoys working at a fintech business since he loves delivering things, making things happen and moving things forward at pace.
If he wasn't working at Starling, Julian would probably be enjoying some time in the house he has just built in Kent or spending a couple of months exploring New Zealand – the top destination on his bucket list.