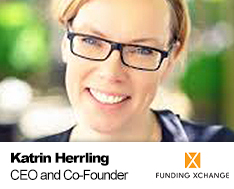 Katrin Herrling /
Funding Exchange
Katrin has been managing her family's dairy farm for more than 15 years. She has helped to grow the farm and transform the operations. The business is much more than a source of income. It is a huge part of her family life.
Katrin has always worked with her bank to finance the farm and smooth cash flow, but ran into difficulties in 2010 when her bank manager doubled her cost of credit overnight.
The frustration of running from one bank to another to secure offers inspired Funding Xchange. Katrin is passionate about making it easy, quick and transparent for businesses to find finance.
It probably helped that Katrin had a parallel career advising large banks and financial firms and understood that they often were not the right answer for a small business that needed funding. So, Funding Xchange sets out to get business owners in the position where they can easily compare terms available from many providers, increasing the chances that one of the offers is going to be right for the business.
Ultimately, Katrin wants Funding Xchange to give you control over finding finance that's right for you and your plans for your business. Quickly and easily. So that you can continue to build your business and life.
Katrin would love to hear from you. Please let her know if we have helped you find funding or have feedback to help us build an even better service.