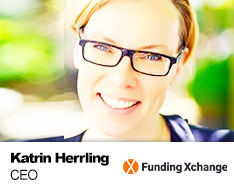 Katrin Herrling /
FUNDING XCHANGE
Katrin co-founded FUNDING XCHANGE (FXE) setting out to use access to new live data sources and advanced analytics to disrupt the inefficient SME funding space by creating the first UK platform for businesses to easily access bank and non-bank funding solutions in one place. FXE launched in 2016, announced an exclusive partnership with MoneySuperMarket and was designated as an official finance referral platform by the British Government.
Today, FXE is working with nine UK banks and 70+ lenders to help customers access SME funding solutions, delivering services to the UK's largest price comparison websites and building white-labelled, custom marketplaces that are integrated into banks' SME banking proposition.
FXE has pioneered the use of live, validated data sources to transform the underwriting of SME loans. By digitising the assessment of loan applications, FXE is reducing the costs for lenders by more than 70% and giving small businesses transparency of the options they are eligible for. With the advent of Open Banking in 2018, FXE is continuing to lead the integration of new data sources and making it possible for lenders to make instant lending decisions.
FXE received a £5 Million BCR grant in 2020 to accelerate the delivery of its innovative solutions: FXE is deploying the funding to deliver a Portfolio Monitoring tool in collaboration with Shawbrook that allows lenders to track risk exposure in real-time. In addition, FXE is making its innovative technology available as a broker portal, making it easy for brokers and funders to collaborate effectively and demonstrate compliance.
Before founding FXE, Katrin spent seven years at Bain & Company, working closely with banks and other financial services institutions across Europe. Prior to joining Bain, Katrin led American Express' strategy and business development team in London.