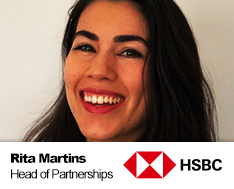 Rita Martins is the Head of FinTech Partnerships, for Global Functions, at HSBC. Building and managing relationships with high-potential startups and driving collaboration between FinTechs and traditional financial services.
Rita worked previously at Ernst and Young and Accenture, advising C-Suite on the applicability of RPA and AI tools in finance and driving large scale transformation projects, gaining deep insight on best practices across the industry.
A recognised FinTech expert, Rita was recognised in the Top50 Inspiring Women in UK Tech (InspiringFiFty 2021) by AccelerateHer and Women in FinTech Powerlist 2020 by Innovate Finance. She is a regular speaker at Financial Industry events panels and a judge at FinTech innovation awards.
Rita advises a number of technology startups, is a mentor at several accelerator programmes such as Techstars Web3 Accelerator and sits on the Advisory Board of FinTech Connect and Tech London Advocates (TLA) FinTech work