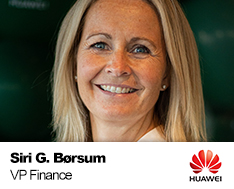 Siri joined Huawei as Global VP Finance Vertical Eco-development & Partnership within Business Consumer Group in March 2020. At Huawei, she's building a new organization from Oslo (NO) within the firm, aimed at the world's banking and finance sector. Siri looks back at a successful track record of being a part in building up companies: She was one of the first hires at OMD Norway, Kanal 24 (now Radio Norge), and Google Norway, hugely contributing to their today's success.
At Google, she had worked for 12 years, where she'd been the Industry Leader for Travel & Finance and served as Brand & Culture/Innovation Evangelist in Silicon Valley. She is a popular speaker on topics such as finance, digitization, digital marketing, transformation, and innovation She has 20 years of experience from the media industry in sales, finance, and from various board positions.
Siri has a strong and passionate relationship with digitalization, organizational culture, innovation and the opportunities technology provides, and how it can improve both the customer journey and not least the results.