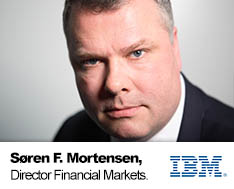 Søren F. Mortensen IBM /
Søren F. Mortensen
Global Director Financial Markets IBM
Søren brings over 25 years of Financial Markets experience in delivering mission critical transformational projects for financial institutions. His responsibilities include complex transformations of financial institutions, Innovation in Financial Markets leveraging new technologies such as Cognitive & Blockchain, and post-trade initiatives around reference data management, collateral management and OTC-derivatives processing.
Prior to re-joining IBM in 2013 Soren was Managing Director for SunGard Global Services in Europe developing and delivering service solutions around SunGard products working with several tier 1 European clients.
Having previously worked at financial organisations such as Morgan Stanley, Paribas Capital Market and HBOS Treasury, he brings a practitioner's view to the challenges faced by customers today.
Søren has, since January 2017, been an advisor to the Consultative Working Group of ESMA's Financial Innovation Standing Committee (FISC) advising European Regulators on Technology & Innovation, he is also on the advisory board of the EDM-Council and on the Blockchain Advisory Board of Fintech Connect